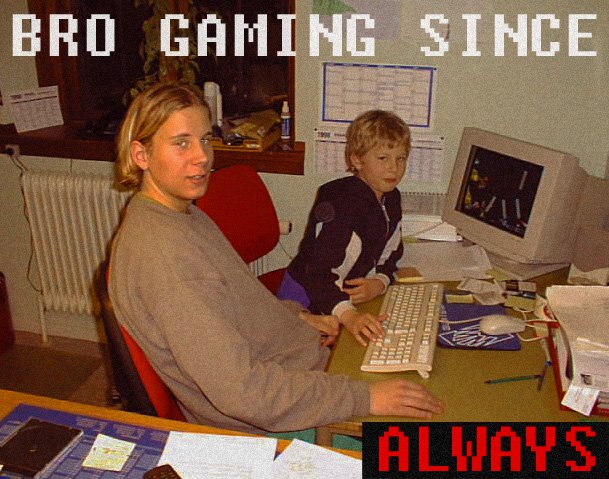 Allow us to introduce ourselves.
We're Rasmus & Ketil. Two brothers who share the same passion for sound, music, film and gaming.
Back in the days, when Ketil got old enough to work a PC, we've defeated the Grand Intellect in Invasion of the Vorticons (Commander Keen), battled a Cyborgdemon with a chainsaw (Doom) and fell in love with Katana (Halo).
Through the countless hours of gaming, the many adventures as a band sharing the same stages across Europe and a common interest for music we developed a strong brotherhood and friendship.
Since then we decided to form Gravitated and establish a sound studio in the creative urban city area of Roskilde called Musicon.
From here we've specialized in crafting evocative sound-design, atmospheric soundscapes and electronic music aimed for the music, commercial and gaming industry.
We explore how music and sound design can evoke certain emotions and let our imagination unfold into abstract storytelling. We build our audio library by recording everyday-sounds and transform them into something unique.
We love to work with visual art too. We produce music videos, artwork photography, digital backdrops for artists on stage and much more. For a decade Rasmus has worked as a professional photographer and video producer working for numerous high-end brands, commercial agencies, artists, festivals and record labels from across the world. In the past Ketil has assisted Rasmus on many productions either as a camera operator, music composer or sound designer. (Feel free to explore the visual side of Rasmus here: www.rasmusgsejersen.com)
Through these type of work, we decided to combine our experience, mindset and skillset and become creative partners and sonic seekers in Gravitated Sound Studio.
We hope that this short text gives you a more clear image of who we are – and what we do.
Feel free to contact us for thoughts, ideas or projects. Or drop by our office in Musicon for a coffee or beer.
Highfives & best regards,
Ketil & Rasmus